Credit Sense
State Bank of Southern Utah now offers you access to your credit score along with personalized tips on how to improve or maintain an already great score. You can view your score daily with no impact to your credit.
It's built right into our easy-to-use Online Banking and Mobile Banking App. Benefits of checking your score today include the ability to:
Receive monitoring alerts.
Identify credit bureau errors.
View best rates available for you based on your score.
Enroll in Online Banking
---
How to improve a credit score.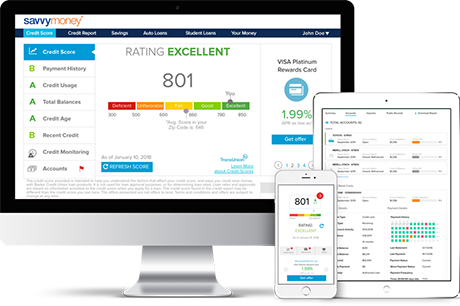 Your credit score is more than just a number - it's a way for lenders to determine loan eligibility, amount of the loan, interest rate and payment - important stuff when you are planning for your future. Educate yourself on what makes up your credit score and how to improve it. With our new credit score tool you can be coached every step of the way to an improved credit score.
Here are a few tips to get you started:
Check your credit reports at least once a year.
Pay your bills on time.
Don't carry large amounts of revolving debt.
---
Credit Sense Frequently Asked Questions
What is SavvyMoney Credit Score?
What is SavvyMoney Credit Report
Is there a fee?
How often is my credit score updated?
How does the SavvyMoney Credit Score differ from other credit scoring offerings?
Why do credit scores differ?
Will State Bank of Southern Utah use SavvyMoney Credit Score to make loan decisions?
Will SavvyMoney share my credit score with State Bank of Southern Utah?
How does SavvyMoney Credit Score keep my financial information secure?
If the financial institution doesn't use SavvyMoney Credit Score to make loan decisions, why do we offer it?
What if the information provided by SavvyMoney Credit Score appears to be wrong or inaccurate?
There is a section on the site that features both State Bank of Southern Utah product offers and financial education articles. Why am I seeing this?
Will accessing SavvyMoney Credit Score 'ping' my credit and potentially lower my credit score?
Does SavvyMoney offer credit report monitoring as well?
How do Members change their email address or other personal information?
Can Members use SavvyMoney on mobile devices?